Our Start
Landaulad Razzamatazz 'Frog'
Landaulad Invader x Ch Landaulad Krismus Katy

Ive been owned by this wonderful breed since 1987 when my Mum (Celia) bought a beautiful mahogany brindle female from Mary Pedler of the well renowned Landaulad prefix.
Landaulad Razzamatazz otherwise known as 'Frog' was the start of our adventure with this breed and the foundation of the Koendidda prefix.
Frog was first and foremost a pet and we thought we may show her 'one day'. Those intentions were never realized as she damaged her shoulder at a young age.
Frog's sister was Aust. CH Landaulad Rosie O Grady who was shown with great success by Annette Baxter of Boldhart SBT.
Eventually we decided it would be nice to have another staffy in the house and so the Koendidda prefix was born.
The following 2 girls are the basis of the female line behind todays Koendidda team.
Koendidda Thats Jazz 'Tussy'
Ch Almeria Subiaco x Landaulad Razzamatazz
Tragically taken from us at a young age but left behind to continue our line my lovely girl Jin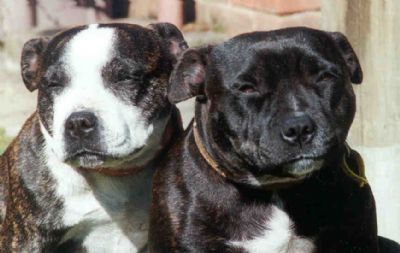 Koendidda Jinaldi CD 'Jin'
Ch Boldhart Hugo Who x Koendidda Thats Jazz
A delight to own. Jin was my first show dog and my step into other dog sports. My girl really didnt like the show scene but boy did she enjoy agility sports!
Jin was a natural at obedience and was awarded her Companian Dog title after her first 3 trials, having only needed 3 passes for the CD title. We also finished it off in style by winning the final competition. We didnt go further in obedience as Jin didnt like retrieving, her heart was in agility.
Our first agility compeition was at the Perth Royal Show where we were 1 of 4 to gain a pass that day from over 30 entrants. Unfortunalty for Jin her agality career was cut short after she tried to jump an old type wire school fence and broke her leg. By this time she was 8
Jin is the mother to 3 Aust Champions being Ch Koendidda Chivas Regal CD, Ch Koendidda Pint O'Gunniess and Ch Koendidda Manhatten Jazz